Chattanooga Senior Living Community Brochure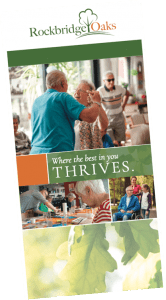 Rockbridge Oaks is located in charming, historic Chattanooga, Tennessee. It's an assisted living and memory care community with a boutique feel. Expect concierge-style service, with all the amenities and services you're seeking. Our Signature Programs support residents' needs at every level, while modern apartment styles feel high-end and welcoming. We're tucked quietly away on a gated campus with broad expenses of inviting green spaces.
Discover more about our unique offering in the Chattanooga area by downloading the community brochure.
You'll find insights into our unique wellness philosophy that focuses on healthy living through one-on-one engagement and wellness support to enhance both your lifestyle and your legacy. You may just discover a community that you'd love to call home.
To learn more about Rockbridge Oaks and start imagining your life here, please call (423) 558-2000 or complete the form to request our upcoming community brochure.