The Good Life, in the Foothills of the Appalachian Mountains
On the banks of the great Tennessee River, where majestic mountains near and far watch over with aplomb, sits Chattanooga, a Southern city as rich in American history as it is in natural beauty. Yes, Chattanooga, Tennessee is truly the pride of the Appalachian foothills, and has long been heralded as an outdoor adventurer's paradise, for the area is chock-full of opportunities to get out there and experience nature. From hiking trails to biking trails, climbing adventures for every skill level, white-water rafting on the Ocoee, boating, kayaking, or just taking a slow innertube down a cool stream on a summer's day, Chattanooga truly has it all.
But Chattanooga is not just natural beauty and outdoor activities to the max, it's also a bustling cultural magnet and event-center extraordinaire that draws the interesting and interested from all parts of the globe—to immerse themselves in the arts and all things artisan, artistic, and avant-garde.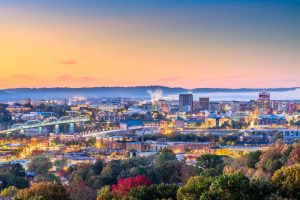 Chattanooga is home to the celebrated Bluff View Art District, a historic neighborhood with sweeping views of Chattanooga's natural beauty that provides delicious food for the palate and the soul. Here you will find plenty of fine baked goods, authentic pasta, delicious coffee, and ample opportunities to enjoy local, regional, and national artists' work in the River Gallery and River Gallery Sculpture Garden. If you prefer the natural world, Chattanooga offers an opportunity to get up close and personal with the aquatic life of Tennessee at the ever-popular Tennessee Aquarium. Or visit the Creative Discovery Museum and enjoy a plethora of exhibits and educational opportunities.
See the celebrated Hunter Museum of American Art, the Tennessee Valley Railroad Museum, tour a distillery, take a ride in the sky on the Incline Railway, and the list goes on and on. There's really never a reason to be bored in Chattanooga.
So, if you're considering assisted living in Chattanooga for yourself or someone close to you, Rockbridge assisted living provides everything you'll want and need nestled in a postcard-worthy corner of America; it's senior care excellence in charming Chattanooga!
Assisted Living: Your Way, Every Day, at Rockbridge Oaks
Assisted living is simply… living. Assisted living is your life, your way, with a little assistance standing by for those times you desire it. We know you've lived a long, full life, raising a family, building a career, maintaining your home, giving back to the community, and caring for the people you love… and you've got many great years ahead of you. We respect all you've accomplished, and we're here to support you, however you want, so the years ahead will be some of your best.
Rockbridge Oaks: A Unique Experience That Sets the Bar for Senior Living
This is no cookie-cutter community like you might find in some of the larger assisted living 'institutional style' communities. At Rockbridge Oaks inception, we set out to redefine the tired definition of senior living, and as such we've built a boutique-style community that caters to individuals with a one-on-one style of care that makes for a unique experience that is unrivaled. Yes, living life your way is easy when you take advantage of all the wonderful amenities and personalized, quality care we provide.
Rockbridge Amenities: Unique, Fun, and Healthy

At Rockbridge Oaks, we believe senior care excellence in Chattanooga requires excellence in every way, from our spacious, well-designed apartments; to our exceptional wellness programs; to our lush, green spaces for enjoying nature's beauty; and certainly, to our unique amenities and personalized care that offers everything your heart could desire. Take a peek below at just a few of our many amenities.
Fantastic Food, Anytime You Desire
Our Walnut Street Dining Room is the perfect anytime-dining experience. With its ever-changing menu of delicious, healthy, chef-prepared and locally-sourced meals you and your friends will get that fine dining restaurant experience every day.
Fitness for Fun. Fitness for Health
Aging well means aging healthy, and at Rockbridge Oaks we've taken that into consideration. Our Rock City Fitness Center is a modern fitness facility that can rival most big city gyms. Residents can consult with a personal trainer and attend to any and every health or fitness goal they want to accomplish. Want to take it outside into the clean, crisp Chattanooga air, no problem, because Rockbridge Oaks offers an ample amount of walking trails, as well as courts for exciting game activities such as the ever-popular pickleball, and croquet.
The Salon and Spa Experience
Our River Pearls Salon and Spa provides residents with the pampering that everyone really wants. Who doesn't love a salon styling for that great look that makes you feel like a million bucks? We all do, and it's here for you at Rockbridge.
Get into Culture and Learning
If live performances, movies, or interesting lectures are your thing, then our Depot Event Center will become a part of your weekly life. The Depot is your one stop for all things cultural and educational, a community of learning and observing to awaken the soul and challenge the mind. Or visit the Scenic City Theatre to take in a classic movies with your friends. Get the popcorn popping and make it a night!
Express Yourself Through the Arts
Our Bluff View Art Studio is a place where your imagination becomes reality. Enjoy group classes or set out on your own. This is a space for creation. Whether it's painting or drawing, sculpture, or new media, your artistic soul can explore here. Make art, make friends, and make each day an experience to remember!
Reading, A Treasure Map to the World
There's perhaps no better way to travel the world than through a good book. Go on a great adventure, set sail to a new world, get inside the mind of storytellers who can take you on a journey. Reading is life, and at Ross's Landing Library we have an enormous selection of stimulating books that can take you to new and exciting places.
From daily wellness checks, to state-of-the-art security, emergency response systems in all residences, maintenance and repairs, housekeeping and laundry services, concierge services, transportation assistance, and so much more, Rockbridge assisted living gives you everything you want, and need. Check out a detailed list of our amenities HERE.
Rockbridge Quality Care: Personalized for You
At Rockbridge Oaks, we believe everyone should enjoy a life filled with joy and great health, and we've designed our ValeoTM Signature Programs for residents with those goals in mind. Our signature programs are founded upon a bedrock of real science and focus on a comprehensive approach to wellness that incorporates the physical, social, intellectual, and spiritual elements within us all. Our programs challenge minds, lower risks for dangerous diseases, and vastly increase opportunities to get social and make new friends. To read more about our programs and wellness philosophy, click the link HERE.
You not only get more of what you're looking for in the way of services and amenities at Rockbridge Oaks, but you get a higher quality, personalized care that you won't find at some other communities. Whatever assistance you desire, our highly-trained team will provide it, 24-hours a day, 7 days a week. Whether it's a simple check in to see how you're doing today, or assistance with dressing or bathing, dining or mobility issues, medication support, or anything else, you'll get the attention you need when you need it, and never when you don't, because our team always respects your personal space and need for independence.
Our team goes through rigorous training and focuses on tailoring quality care for each individual. Again, there is no cookie-cutter approach to anything we do here at Rockbridge Oaks assisted living in Chattanooga. If you have a special need that others in the community don't have, we'll help you with it, regardless of whether it's an every-day need, weekly need, or intermittent. And confidentiality is key, as your secrets are our secrets, so you never have to worry about others knowing your business or anything personal you may need assistance with. We take care of you, and our assistance is absolutely confidential.
Rockbridge assisted living provides unparalleled senior care excellence in Chattanooga, so you can continue to live the proud, independent lifestyle you always have, enjoying the good life and spending time with family and friends.