Savor the difference exquisite cuisine can make.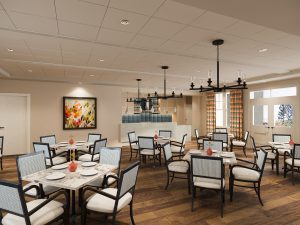 They say the way to the heart is through the stomach, and we want you to love it here. So we've made sure dining at Rockbridge Oaks never disappoints. Our chef-prepared restaurant-style cuisine is both delectable and ambitious, delivering nutrition and mouth-watering flavor with every bite. And there's no fixed schedule to decide when you eat — you'll have anytime dining options to appease your appetite at dinnertime and those times when hunger unexpectedly strikes.
Eating foods you enjoy is important for your day-to-day happiness. We make sure you can look forward to each day knowing there's a new culinary adventure to explore.
Walnut Street Dining Room
Your hunger meets its match in the Walnut Street Dining Room, where delectable chef-prepared cuisine delights your taste buds and nurtures your well-being. Let us spoil you with restaurant-style entrées expertly prepared with seasonal menus and locally sourced ingredients. Our chef is both skilled and adventurous, adept at customizing cuisine to suit your dietary needs while maintaining high culinary standards.
And because hunger doesn't adhere to a schedule, the Walnut Street Dining Room offers anytime options for dining on your own time. It's how you'd feed yourself, without all the planning, prep and cleanup of actually doing it yourself.
Chestnut Street Dining Room
For memory care residents who need it, we're able to customize dining with Valeo Bites that are easy to swallow and crafted with fresh ingredients that promote wellness and increased cognition. Because we know that dining is traditionally social, team members often eat with the memory care residents, promoting stability and familiarity with the chance to socialize and get to know each other.
With respect for your needs, tastes and preferences, we strive to make every dining experience one of the most satisfying parts of your day.
Maclellan Courtyard Oasis
Treat yourself to fresh air and social activities in the Maclellan Courtyard Oasis. Take in events at the pavilion, grill your dinner and enjoy al fresco dining by the firepit, challenge friends to games of croquet or pickleball, or simply stroll the walking paths. Our beautiful central greenspace invites you to do it all in the great outdoors.