Treat your body well and it will return the favor.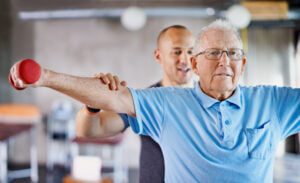 Our wellness philosophy identifies physical health as a key component of overall well-being, along with social engagement, intellectual stimulation and spiritual fulfillment. So we offer many ways to help keep your body fit and strong. Walking paths invite you to work your cardiovascular system in the fresh air and natural surroundings. Our state-of-the-art Rock City Fitness Center has machines for muscle toning and indoor exercise. Regular group classes make working out a fun community activity. You can even get guidance from a dedicated fitness trainer.
We bring the same personalized attention to your fitness journey that makes every aspect of life here feel especially crafted just for you.
Fitness and wellness programs catered to your needs
Group fitness classes and one-one-access to a personal trainer
Rock City Fitness Center with state-of-the-art equipment to help increase strength, stamina and range of motion
Walking paths and lawn games in our central green space
Rehabilitation services provided on-site by trusted partners
Rockbridge Oaks has partnered with Caremerge to encourage family and community engagement, interaction, feedback and programming for residents.