Ah, it's that time of the year again. When you feel that crisp fall air on your face, and the afternoon sun takes on that special golden glow, you know that the holiday season has arrived. It's the time of year when your usual morning coffee with one sugar becomes a peppermint mocha with whip cream and sprinkles, when streetlamps become candy canes, and when those delicious holiday cookies start arriving in the break room at your office. Yes, the holidays are, well, just a little bit better than the rest of the year.
The holidays are a joyous time for many, indeed, and who doesn't love a mocha with whip cream and sprinkles, right? But the holidays are, at their core, much more than pretty lights and sweet treats. The holidays are a time to refocus on what's truly important in life, and for most of us… that's family. Beginning with Thanksgiving and on till the new year, we gather together, enjoy great food, and share our time, our stories, and our love with the ones we hold most dear.
Any time of the year is a great time to spend with your family, but the holidays make it feel extra special. The kids are home from school, young adults come for a visit, and life slows down for a while, which makes it the perfect season for everyone to get that extra grandma and grandpa time. The senior members of your family have the wisdom of life, and their stories and experiences are a holiday gift to everyone. So, when you're visiting with seniors during the holidays, it's important to include them in all the holiday fun, and it's also a good time to check in on their well-being, physically and emotionally.
Visiting Seniors During the Holidays: Time to Share, Time to Care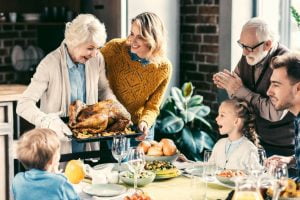 The slowing down of life during the holidays allows for more time to share, and really check in on those we love. While it may seem like the most joyous time of the year, the holidays can also bring depression or amplify it in those who already suffer from this, sadly, very common but debilitating illness. Seniors who have lost a spouse or a child may feel the impact of these great losses even more severely during the holidays, as the holidays are a time in which many memories are made. Lost loved ones will be quite present in our thoughts during the holidays and the sense of loss is sometimes overwhelming for seniors, especially if they're alone in an assisted living community.
Bringing the Family to a Senior Living Community
It's a wonderful idea to bring your loved one home for the holidays, if possible, but if you cannot for medical or practical reasons, then bringing the festivities to the senior living or assisted living community is your next best option. When family visits, spirits can be lifted and while there's no immediate fix for clinical depression, this family time can certainly help with coping and helps to create new memories that can be revisited with fondness. A great tip is to connect with the community team in charge of programs so that you can view the calendar of events and time your visit!
Celebrating the Holidays with a Loved One at Home
Visiting seniors during the holidays at their private home is also a wonderful option if your aging parent or grandparent still resides in their own home. And, this might be the place where they feel the most comfortable to share and get into the holiday spirit. As host of the holiday gathering, your mom, dad, or grandparent will likely feel a sense of purpose being able to provide for the family once again. However, it's important to know what to watch for, in case your loved one is suffering from depression. Let's discuss this further.
Watching for Signs & Talking it Out: Mental Health
When you're visiting, observe your loved one as they interact with family members. Remember, they are someone you know well, so watch for signs to see if they're just 'going through the motions' to keep everyone happy, or if they're really interacting and enjoying themselves. Depressed people can get very good at masking their emotions so as not to burden anyone with their problems, especially family members they love.
Losing interest in activities and irritability are two possible signs of depression, but there are many others, and they can be hard to notice sometimes; to learn more about depression, click the National Institute of Mental Health information site here. If you see the signs, maybe take some time later, as the family crowd thins out, to talk one-on-one with your beloved senior, and let them know you want to hear what's on their mind. If they've been putting on a happy face they may be relieved to share their feelings in a quiet conversation with you. Listen to them. Sometimes just being able to share their thoughts with you offers some relief. But if the conversation is dwelling in negative thoughts, you might consider interjecting with some positive thoughts about their life, to let them know that you hear them, but that they are loved and supported. Loneliness or feelings of sadness over the loss of a spouse cannot be repaired overnight, and often requires help from a trained, licensed therapist, but if you acknowledge their pain and let them know you're committed to supporting them, your actions can go a long way.
Read our blog How to Tell It's Time for Assisted Living to learn what signs to look for.
Celebrating the Holidays in a Senior Living Community and at Home
Whether you're celebrating the holidays with your senior loved one in a community or at your home, or theirs, if all is well with their physical wellness, and your loved one is in a positive mental and emotional mindset, then there are many ways that you can help them feel connected and respect their needs. Let's consider a few.
Get Them Engaged
Obviously, we're not talking about marriage here, but engagement in activities with the family. Turn off the smartphones and get the whole family connecting. Charades is a great game in which everyone, young and old, can get involved. Board games are fun as well. Or you might let your senior loved one choose the game. Whatever you decide upon, it's important to make sure it's an activity that they will enjoy, so something familiar to them might be the way to go. Maybe consider getting everyone in the car or van and driving around to look at neighborhood Christmas lights, or even better, take a walk together to see them if it's not too cold. The bottom line is: if they're doing something they love, they may be more engaged, and more in the holiday spirit… and that's healthy for the body and the mind.
Remember: It's a Marathon, Not a Sprint
The holidays can be long, and while there is usually a burst of activity right at the beginning when everyone arrives from destinations near and far, it's important to remember that you've got several days, maybe a week, or even two or three depending on everyone's schedules. So, remember that the holidays are a marathon more so than a sprint and act accordingly. You don't need to fit everything into one day, or even two. And your senior loved one will likely appreciate a slower schedule of events. Plan some time where everyone gets to relax, on their terms. Give the adults some time to read a book, or take a nap to refresh so they can be ready for all that holiday spirit, and some pumpkin pie later. Taking it slow for a few hours will give your senior loved one the ability to stay fully charged, so they won't miss a bit of the family fun.
Of course, all the aforementioned activities, and the methods to ensure that your mom, dad, or grandparent are fully engaged, still apply whether you're celebrating the holidays in your home or theirs. The take away here is really that the holidays are about family, and this special time of the year is an excellent time to make sure the senior you love is cared for and living their best life.
Happy holidays from our family at Rockbridge Oaks, to yours.